Customizable Shirts That Make a Statement!
Why buy a shirt that advertises for someone else?
Why not broadcast your personality or message on your shirt?
We have a variety of techniques to create a great shirt for you!
Screen Printing Options
Put in the most basic terms, screen printing (sometimes known as "silk screen printing") uses a series of stencils to decorate a substrate.
We offer screen printing which is the process of plastisol inks through a screen. We can screen print onto apparel such as t-shirts, sweatshirts, shorts, jackets, and caps containing cotton, polyester or cotton/polyester blended fabric.
Screen printed inks are often used for most printing found in large retail stores and offer the look, feel and durability you expect. Screen printing can be single or multi-color. With an extensive list of over 70 stock color choices available, specific color matches can be ordered as well.
Choose from a wide variety of ink formulas, from standard to glitter to puff. Use Easy Prints layouts, with over 4000 unique layouts to choose from, or send us your artwork to create custom printed apparel.
Full Color Printing Options
In digital printing, high-quality print systems are used to print full color designs.
This process allows more complex and vivid images than those produced with traditional screen printing, as well as patterns, shading, and color transitions. If you need a photo printed, or just multi-color, high definition detail such as art with gradients and special effects, digital printing is the best choice.
Our full color digital prints can be made from any artwork and printed to a wide variety of materials. We can print on all types of apparel, too, including t-shirts, sweatshirts, jackets, performance wear and bags.
The process is also more cost-effective for small orders and for designs with many colors. This makes full color digital printing a popular choice for short-run personalization.
Custom Embroidery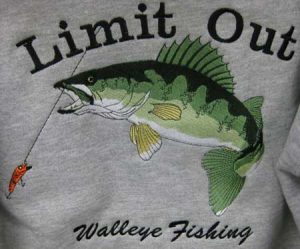 We operate 3 single head, 12 needle, embroidery machines that create a multi color image that stands out and lasts. A properly embroidered image will stand up to the rough use such as the back of work jackets. Take a look at the detail in this fisherman's jacket!
Save
Save
Save
Save